You are here
Home
/
YCRC Newsletter, Issue 3
YCRC Newsletter, Issue 3
November 17, 2016
In this newsletter:
​​
---


Welcome - Harlan Krumholz, Daisuke Nagai and Kiran Keshav
The Yale Center for Research Computing (YCRC) has had an exciting inaugural year. From our new office at 160 St. Ronan Street, the YCRC has centralized research computing support activities for the Yale community.  In our second year of operation, we plan to continue our focus on enhancing Yale's cyber-infrastructure, offering advanced computing support to researchers, providing education and training, and building a community around researchers using advanced computing methods.
An important improvement to the High Performance Computing (HPC) infrastructure was made this fall when we replaced the Louise HPC cluster with Farnam.   The YCRC plans to refresh portions of the Omega HPC cluster in the months ahead.  In addition, the YCRC's National Science Foundation (NSF) Major Research Instrumentation internal proposal, Acquisition of a Computing Cluster for Simulation-Based Science & Engineering, is one of three selected for submission by Yale to the NSF.  A faculty group including Robert Bjornson (Computer Science), William Boos (Geology & Geophysics), Sohrab Ismail-Beigi (Applied Physics), Daisuke Nagai (Astrophysics), and Andrew Sherman (Computer Science), are leading this initiative.
The YCRC continues to provide dedicated, advanced support for the Yale Center for Genome Analysis, the Department of Geology & Geophysics, and the FAS Science Research Software Core. This fall, we have welcomed a new team member to the life science research support division, Ben Evans.  Ben recently completed his Ph.D. in Ecology and Evolutionary Biology from Yale, and has been an avid user of the YCRC's HPC resources.  The YCRC is expanding its scientific computing support, and will host regularly scheduled office hours. Please check the schedule for details.
YCRC workshops continue to serve the community, covering topics such as introduction to HPC systems and usage, scripting, grant proposal writing for access to federal computational resources, geographic information systems and computation, and tools for data science.  Check out the website for further details and videos.
The YCRC, through its involvement in the Research Coordination Network, is also part of a national dialog on the skillsets required to support research computing on campuses.  In addition, the YCRC is involved in regional data science initiatives such as the Northeast Big Data Innovation Hub, and will host this year's Day of Data on Friday, December 2nd, 2016.  We look forward to seeing you there!
If you have any suggestions regarding technology support, new infrastructure, or workshops, please contact us at research.computing@yale.edu.
---

Cyber-Infrastructure Notes
Globus is a research data management service that makes it easy to move, manage, and share big data. The high-speed network, science DMZ, and Globus APIs available at Yale create a new research data platform on which one can create entirely new classes of applications for research data management.  On October 12 and 13, Vas Vasiliadis from Globus.org, the organization that supports Globus, was at the YCRC leading a developer workshop on the Globus platform.  This workshop provided all of the information that a developer would need to imagine and create modern research data portals that leverage the Globus platform to advance discovery.
The workshop was part of a series of workshops at university campuses and national facilities around the country aimed at helping institutions, like Yale, make best use of their advanced cyber-infrastructure to manage research data at scale. To learn more about the workshop series, please visit the Globus World Tour website.  To learn more about Globus at Yale, please visit the Globus page on the YCRC website or email us at research.computing@yale.edu.
The new Farnam High Performance Computing Cluster, a refresh of the Louise cluster, went live in October, 2016. Farnam supports life science computing and is named after Louise Whitman Farnam, the first female to graduate from the Yale School of Medicine. The new cluster is significantly enhanced over Louise, boasting over 4400 cores of compute capability, 1.5 petabytes of high performance storage, and 8 dedicated GPU co-processors, all at a reduced physical and power footprint.  The YCRC is also planning to refresh portions of the Omega HPC cluster in the months ahead.
The YCRC is continuing its partnership with researchers in the Computer Science department, and with Yale ITS, to expand the Yale Science Network, a 100 Gb network specifically designed for large scale data transfer.   This year, a project designed to create an intelligent network using software will be initiated.  The development of this software defined network (SDN), led by Yale researcher Richard Yang, will allow the current campus network to interface seamlessly with the science network.  Production deployment of the SDN is expected in FY18.  

The NIH Office of the Associate Director for Data Science has launched the NIH Commons Credits Pilot.  This program aims to "provide researchers with access to cloud-based electronic environments to network, securely store and share their work in the form of Digital Objects (e.g. datasets, tools, etc)."  Please contact the YCRC if there is interest in coordinating applications to this program.
---

Education and Training
 The YCRC has increased its training offerings this year.  New Training Sessions have included a GeoComputation bootcamp series, an Amazon Web Services cloud training session, and several XSEDE resource training sessions, including a session led by Sohrab Ismail-Beigi on Writing a Successful XSEDE Proposal. In addition to the two day training session on the Globus Platform for Research Data Management, the YCRC has also included a workshop on R Optimization led by YCRC member Steve Weston, and will include another on Git for Source Code Control led by YCRC member Kaylea Nelson.  Steve Weston has also instructed in STAT 262, Computational Tools for Data Science.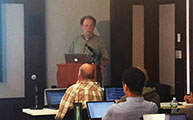 From July 1, 2016, the YCRC has trained over 400 attendees at the YCRC auditorium at 160 St Ronan Street.  In addition, the YCRC has seen nearly 200 online views of previously recorded sessions. Popular sessions will continue to be recorded. A special thanks to the Yale Broadcast and Media Center for providing these professional digital recordings.
---

New in Research Support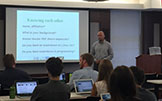 This past year has seen the addition of Geo-Computation expert Giuseppe Amatulli, Ph.D. to the research support team. Giuseppe is a forest scientist and spatial modeler with expertise in computer science.  In addition to his role with the YCRC, Giuseppe continues his research with the Yale School of Forestry, focusing on spatial modeling with a special emphasis in species distribution under climate change conditions.  At the YCRC, Giuseppe is leading several workshops on Geo-Spatial analysis.  This last summer he led a 5 day Geo-Computation and Environmental Analysis workshop focused on developing key skills required for advanced spatial data processing.  He is also leading several shorter hands-on Geo-Computation workshops.  
Giuseppe is available for consultation and currently holds office hours at the Center for Science and Social Science Information (CSSSI), in the lower level of the Kline Biology Tower. Geospatial analysis of data is continuing to be an important facet of multiple research areas, and the YCRC is thrilled to make Giuseppe's expertise available to the Yale research community.

The YCRC welcomed Ben Evans, Ph.D. to the research support team in the early fall.  Over his scientific career, he has danced at the interface between biology and computer science, in projects ranging from human to bacterial genetics and evolution. He recently finished his Ph.D. work in Jeff Powell's lab here at Yale, where he studied population genetics in Aedes aegypti, the dengue, yellow fever and Zika mosquito.  Ben will be working under Robert Bjornson, Ph.D. and will focus on Life Science Research support.
The growing research support team looks forward to partnering with researchers on their upcoming projects!
---
YCRC Participates in the Yale ITS Technology Summit.
This year's Yale Technology Summit, organized by Yale Information Technology Services (ITS) was the most successful to date.   Over 500 attendees from across the Yale campus came together to hear about innovative and emerging technologies in teaching, research, entrepreneurial, and administrative activities at Yale and beyond. The event featured 23 presentations from members of the Yale community, as well as workshops, poster sessions, and a technology exposition. ITS Research Technologies staff David Logie and Paul DiBello participated on the Technology Summit planning committee, and YCRC Research Scientist Giuseppe Amatulli presented on Big Data and Geo-computation Using the YCRC's HPC Cyber-infrastructure.   All sessions of the Technology Summit were recorded.  To learn more about this year's summit, visit the ITS Website.
---
Day of Data
The Yale Day of Data is an annual day-long event, created to bring together researchers from a variety of different disciplines to discuss finding, analyzing and managing data. The event draws from the experiences of researchers exploring common themes, such as the challenges posed by the ever-increasing complexity of data, increasing expectations from funders, and heightened attention to data as a research product.  This year's conference will be held on December 1 & 2, 2016 and will focus on open data, reproducibility, and research transparency in disciplines across Yale University.  Keynote speakers are:
Brian Nosek, Co-founder and Director, Center for Open Science
Erin McKiernan, Professor of Physics, Biomedical Physics Program, National Autonomous University of Mexico and Founder of "Why Open Research?"
Harlan Krumholz, Harold H. Hines, Jr. Professor of Medicine and Director of the Yale Center for Outcomes Research and Evaluation (CORE)
Thursday, December 1 - Will showcase of the work of Yale students and researchers in a poster session.  The poster session will be held at the Center for Science and Social Science Information in the Kline Biology Tower, 219 Prospect Street.  No registration is required for this session.
Friday, December 2 - Will include keynote speakers and presentations and be held at the Yale Center for Research Computing (YCRC) auditorium at 160 St. Ronan Street. Registration is required to attend speaker presentations.
For a complete schedule of talks and other information, please visit the Day of Data 2016 program site.
To register, please visit:  https://yaledayofdata2016.eventbrite.com
The 2016 Yale Day of Data is sponsored by the Office of the Provost, Center for Science and Social Science Information, Yale Center for Research Computing, Institution for Social and Policy Studies, Yale Digital Humanities Laboratory, Yale Institute for Network Science, Center for Teaching and Learning, and the Sigma XI Distinguished Visitor Fund.
---