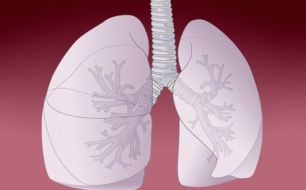 ITS Research Services has been supporting cancer research conducted by Dr. Theodore Holford, Professor of Public Health (Biostatistics), Professor of Statistics, and Head of the Division of Biostatistics at the School of Medicine, through the use of the High Performance Computing (HPC) clusters. Prof. Holford's research team is examining smoking behavior with the goal of developing lung cancer prevention strategies. The team belongs to the Cancer Intervention and Surveillance Modeling Network (CISNET), which is funded by the National Cancer Institute.
Dr. Mark Clements, of the Karolinska Institute in Stockholm, Sweden, visited Yale for one week to launch this effort beginning on Labor Day weekend in 2013. Dr. Clements joined Prof. Holford in developing a multistate statistical model (Markov model) for smoking behavior in the United States.
Strategies for controlling lung cancer mortality are very diverse, according to Prof. Holford. These strategies range from the adoption of policies, to the reduction of cigarette smoke exposure, to the screening of high-risk subjects who are susceptible due to smoking or genetic history. Hoping to explore cost-effective prevention strategies of lung cancer, Prof. Holford's team has already uncovered results.
Research Services is providing the necessary computing high-performance resources that make this effort feasible. The team is using data from the National Health Interview Surveys, conducted between 1965 and 2012, to construct a model that describes smoking histories of initiation, cessation, and mortality for those born since 1890. The approach employs a system of Kolmogorov differential equations, which estimate transition probabilities by using penalized likelihood estimation. Computational efficiency is aided through the use of parallel processing. Research Services helped optimize the configuration of the cluster of computers, making it possible to achieve significant progress on this project quickly.